Summary (2020-2021 catalog)
Year of study
Credits
Lecture hours
Lab / Demo hours
Screening hours
Clinic hours
First Year
43(45)
510
255(315)
30
0
Second Year
41.1
435
270
30
150
Third Year
39.16
360-390
120-180
0
390
Fourth Year
25
0
0
0
1600
Program Totals
150.26
1305
645-765
60
2140

Total Program Hours 4150-4270
Sequential (2020-2021 catalog)
Team
Opto
Course
Credits
1st Year: Fall
SBS1
Systemic Biomedical Sciences 1
4
APP1
Applied Pharmacology 1
3
APO1
Applied Optics 1
4
PCO1
Principles and Practice of Primary Care Optometry I
2
CCO1
Cultural Competency in Optometry I
2
CCL1
Cultural Competency Language Lab I (Optional)
(1)
HDA0
Human Development and Aging
2
OAP1
Integrative Ocular Anatomy and Physiology I
2.5
1st Year: Spring
SBS2
Systemic Biomedical Sciences 2
4
APO2
Applied Optics 2
4
PCO2
Principles and Practice of Primary Care Optometry 2
2
VS01
Vision Screenings
0.5
CCO2
Cultural Competency in Optometry 2
2
CCL2
Cultural Competency Language Lab 2 (Optional)
(1)
OAP2
Integrative Ocular Anatomy and Physiology 2
3
APP2
Applied Pharmacology 2
3
OCD1
Integrative Optometric Case Discussions 1
1
1st Year: Summer
LFC0
Perception of Light, Form and Color
4
Team
Opto
Course
Credits
2nd Year: Fall
SBS3
Systemic Biomedical Sciences 3
4
APO3
Applied Optics 3
4
PCO3
Principles and Practice of Primary Care Optometry 3
5
VSC1
Vision Screenings and Clerkship
1
MBV0
Ocular Motility and Binocular Vision
4
ODS1
Ocular Disease 1
4
OCD2
Integrative Optometric Case Discussions 2
0.5
2nd Year: Spring
PCO4
Principles and Practice of Primary Care Optometry 4
5
CLK1
Clinical Clerkship
1
CSA0
Comprehensive Clinic Skills Assessment
0.1
PCL0
Primary Care Contact Lenses
3
ODS2
Ocular Diseases 2
4
DVT1
Developmental Optometry and Vision Therapy 1
3
EPH0
Epidemiology and Public Health
2
OCD3
Integrative Optometric Case Discussions 3
0.5
Team
Opto
Course
Credits
3rd Year: Summer
PC01
Patient Care 1
0.66
OVR0
Vision Research
2
3rd Year: Fall
ODS3
Ocular Diseases 3
4
DVT2
Developmental Optometry and Vision Therapy 2
3
PLV0
Primary Care Low Vision
3
GRO0
Geriatric Optometry
1.5
PDO0
Pediatric Optometry
1.5
EBO0
Clinical Reasoning and Evidence-Based Optometry
1
POE0
Profession of Optometry and Ethics
1
PC02
Patient Care 2
4
PBM0
Publishable Manuscript Submission
0.5
3rd Year: Spring
ACL0
Advanced Contact Lenses
2
AVT0
Advanced Vision Therapy
2
ALV0
Advanced Low Vision
2
NOR0
Neuro-Optometric Rehabilitation
2
AOD0
Advanced Ocular Diseases
2
AEP0
Advanced Electrophysiology
2
SSV0
Sports Vision
2
PMT0
Practice Management
2
RVS0
Review Seminar
1
PC03
Patient Care 3
4
Team
Opto
Course
Credits
4th Year Clinic Program
PC40
Patient Care, Bayamón Clinic
2.5
PC41
COSSMA Las Piedras Clinic
2.5
PC42
In- House Satelite Clinics, Caguas Clinic
2.5
PC43
In- House Satelite Clinics, Santurce Clinic
2.5
PC44
COSSMA Cidra Clinic
2.5
PC45
In- House Satelite Clinics, Juana Diaz Clinic
2.5
LE01
Local Externships Sites, Site 1
2.5
LE02
Local Externships Sites, Site 2
2.5
LE03
Local Externships Sites, Site 3
5
LE04
Local Externships Sites, Site 4
5
EA01
Externships Sites Abroad, Externship Site 1
2.5
EA02
Externships Sites Abroad, Externship Site 2
2.5
EA03
Externships Sites Abroad, Externship Site 3
5
EA04
Externships Sites Abroad, Externship Site 4
5
Total
150.25
Integrative teaching is emphasized in both the Academic Department (didactic teaching) and Patient Care Department (clinical instruction) in the new curriculum. The concept is to provide students with a clinical perspective in basic science concepts, thereby developing conceptually based clinical reasoning skills applicable to entry-level practice.
The Academic Department is no longer differentiated into a Basic Science Department and a Clinical Science Department. Hence, courses under this curricular structure are not to be defined as purely basic science courses or clinical science courses. They are assembled and taught in one of the following three manners:
• as conceptually-inclined courses with clinical relevance
• as clinically-inclined courses with conceptual significance
• as a parallel–corresponding courses with equivalent conceptual and clinical relevance
Common denominators among courses in these categories are intended to facilitate the students' ability to develop clinical reasoning with a conceptual background. Based on this model, emphasis on concept and application varies depending on the course modality.
Presentation of material will be cohesive and synchronized by either integrating or correlating basic and clinical concepts. Conceptually inclined courses and clinically inclined courses require an integrative presentation, whereas parallel-corresponding courses are presented correlatively. Integrative
presentations of conceptually inclined courses involve discussion of clinical associations that are pertinent to the predominant basic science topic taught. In the same manner, clinically inclined courses are taught providing basic science concepts related to the clinical topic
discussed to provide background comprehension.
Parallel-corresponding courses consist of proportioned presentations of health concepts related to primary ocular diseases and ocular diseases secondary to systemic conditions, with their respective clinical applications utilizing a complementary approach. Elective courses also form part of the new curriculum. The purpose of these courses is for optometric student to further enhance their knowledge in specific areas within optometry
in order to encourage the students to apply for optometric residency programs. All these electives are to be offered in the spring term of the third year and all will be evaluated on a pass/no pass basis. The optometric third-year student must enroll in five elective courses.
Conceptually-Inclined Course with Clinical Relevance
Opto SBS1-3: Systemic Biomedical Science 1-3
Opto APP1-2: Applied Pharmacology 1-2
Opto APO1-3: Applied Optics 1-3
CCO1-2: Cultural Competency in Optometry 1-2
CCL1-2: Cultural Competency Language Lab. 1-2
Opto HDA0: Human Development and Aging
Opto OAP1-2: Integrative Ocular Anatomy and Physiology 1-2
Opto LFC0: Perception of Light, Form, and Color
Opto MBV0: Ocular Motility and Binocular Vision
Opto EPH0: Epidemiology and Public Health
Opto RVS0: Review Seminar
Clinically-Inclined Courses with Conceptual Significance
Opto PCO1-4: Principles and Practice of Primary Care Optometry 1-4
Opto OCD1-3: Integrative Optometric Case Discussions 1-3
Opto PCL0: Primary Care Contact Lenses
Opto DVT1-2: Developmental Optometry and Vision Therapy 1-2
Opto OVR0: Vision Research
Opto PLV0: Primary Care Low Vision
Opto GRO0: Geriatric Optometry
Opto PDO0: Pediatric Optometry
Opto EBO0: Clinical Reasoning and Evidence-Based Optometry
Opto POE0: Profession of Optometry and Ethics
Opto PMT0: Practice Management
Efective Courses
Opto AVT0: Advanced Vision Therapy
Opto ALV0: Advanced Low Vision
Opto NOR0: Neuro-Optometric Rehabilitation
Opto AEP0: Advanced Electrophysiology
Opto SSV0: Sports Vision
Opto ACL0: Advanced Contact Lenses
Opto AOD0: Advance Ocular Diseases
Parallel-Corresponding Courses with Equivalent Conceptual and Clinical Relevance
Opto ODS1-3: Ocular Diseases 1-3
Opto AOD0: Advanced Ocular Diseases (elective course)
The Patient Care Department also has changed in the new curricular structure. Students will enroll in Vision Screenings commencing the spring term of the first year. In addition, clinical clerkships have been added to the second year program. Clinical clerkships consist of student observations in third and fourth-year interns clinical rotations to observe intern/patient, doctor/patient, and intern/doctor interactions. As students become more proficient in primary eye care procedure, they will be allowed to have limited participation in the examination.
The fourth-year clinical program consists of a total of 25 credits, to be completed before the graduation date. It will be required of all fourth-year clinic interns to provide primary eye care at the School main clinic and the in-house satellite clinics, as well as providing care in the School's secondary care clinics. In addition, they must complete part of their clinical education at IAUSO approved external clinic sites. These sites encompass all types of clinic practice scenarios; hospitals, private single and group optometric offices, ophthalmology offices, and optometric practices that provide secondary, specialized optometric service such as vision therapy, low vision, and specialty contact lenses.
In order for any student to be able to register in the third year clinic program, all first and second year coursework must be successfully completed before registration. In order for any student to be able to register in the fourth year clinic program all first, second and third year coursework, including all clinics, must be successfully completed before registration.
1st year
Opto VS01: Vision Screenings
Opto OCD1: Integrative Optometric Case Discussions 1
2nd year
Opto VSC1: Vision Screening and Clerkships
Opto OCD2: Integrative Optometric Case Discussions 2
Opto PCL0: Primary Care Contact Lenses
Opto CLK1: Clinical Clerkships
Opto OCD3: Integrative Optometric Case Discussions 3
| | |
| --- | --- |
| 3rd year | Opto PC01-PC03: Patient Care 1-3 |
4th year
Opto PC40: Bayamon Main Clinic
Opto PC41-45: In-House Satellite Clinics (5)
Opto LE01-04: Local Externship Sites
Opto EA01-04: Externship Sites Abroad
Primary Eye Care Residency – IAUPR
Mission
The program expects to provide post-graduate training so that the resident can develop proficiency in areas of primary care optometry, gain experience with multidisciplinary settings, and obtain training in pre-and-post -ophthalmic operative care. The program also will provide the resident with experience in teaching and scholarly activities, so that he or she may further pursue a career in education and research.
Program Goals
Provide post-graduate training, which develops the proficiency necessary to become a full scope primary care practitioner
Develop quality clinical educators and clinical researcher
Program Description
One-year residency program (beginning in mid-August)
A yearly stipend of $35,000 with benefits
No tuition or fees
Position: One
Health Insurance benefits from IAUPR
Professional Liability Protection from IAUPR
Workload: 80% (32 hours per week)Clinical, 20% (8 hours per week)Didactical

Saturday Clinic approximately twice per month (weekdays exchange for those Saturdays)

Accreditation status: Accredited by ACOE
Bilingual School's Setting with Spanish's speaking patients
Residency Experience
Scholarly Activities
Lecturing
Weekly optometric seminars
Worksites:

IAUPR's Clinic Sites (Own Transportation strongly recommended)
External Rotations

Library and research resources
Administration time
Specialty areas rotation

Contact lenses, VT, Low Vision, Electro-diagnostics, Prosthesis, Learning Disabilities

Certificate requirements include:

Optometry License in a state, territory, or commonwealth of the United States, or the District of Columbia. Puerto Rico Optometry license obtained by January of the residency year.
Completion of Part I, II, III, and TMOD of National Boards Examination in Optometry (NBEO)
Successful Clinical & Didactic evaluations
Publishable quality paper
Meet Our Resident for 2021-2022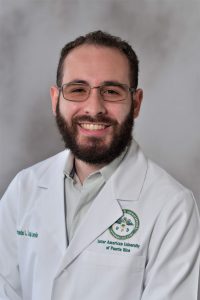 Armando L. Lugo Loyola, OD
alugo@opto.inter.edu
Dr. Armando Lugo was born and raised in Puerto Rico. He holds a BS in Biology from the Interamerican University of Puerto Rico (IAUPR)- Metro Campus. Throughout his undergraduate years, he developed a passion for teaching and worked as a tutor for math courses. He attended optometry school at the IAUPR-School of Optometry where he obtained an OD degree. At the optometry school, he was appointed president of his class for 3 years, was a member of the Student Council, and served as a tutor to colleague students for various courses. Dr. Lugo's professional interests include ocular diseases and research. In his free time, he enjoys going to the beach with his wife, going on road trips with his dog, playing board games, doing BBQ, playing tennis with his dad, and fishing with his uncle.
Eligibility Criteria
Applicant must have successfully completed part I, II, and TMOD of National Boards of Examiners in Optometry as a requisite for admission to the residency program.
Candidates must be eligible to be licensed as an optometrist in a state, territory, or commonwealth of the United States, or the District of Columbia.
Recommendation letters: Three (3) are requested. One should be from the clinical director from graduating institution or chief academic officer. Two others from full-time faculty members have been involved with the applicant's education.
A brief essay stating reasons for applying to a program that is addressed to primary eye care is requested.
Applicant should submit Curriculum Vitae and be available for interview.
Knowledge of basic conversational Spanish language is required to communicate with the majority of the patient population although the English language is the official written language.
Candidates must earn the degree of Doctor of Optometry from a school or college of optometry accredited by the Council on Optometric Education prior to the starting date of the residency program.
IAUPR affirms that all candidates are evaluated without regard to sex, race, color, creed, origin, or disabilities.
On the 10th of March 2021, the IAUPR established vaccination against COVID-19 as a requirement for employment, this requirement extends to the residency program and hence the resident. Candidates are aware of this requirement. As such, once a candidate is selected and offered the position, he/she must present evidence of vaccination against COVID-19 to complete the hiring process. However, during this process, the selected candidate may submit a COVID-19 vaccination waiver request under the recognized exceptions on the basis of medical or religious grounds following the IAUPR established waiver evaluation process. Completing an application for a waiver does not imply or mean it will be granted. For more information, you may contact the IAUPR School of Optometry Human Resources Office, Mrs. Janice Martinez, at jamartinez@opto.inter.edu.
Application Process
Candidates must complete the application through the ORMatch. Deadline: February 1.
For more INFO, refer to the ORMatch Webpage.
All serious applicants are encouraged to arrange a site visit.
Contact information
For additional information contact
Dr. Mayra Rullan,

Residency Program Director